Fall Festival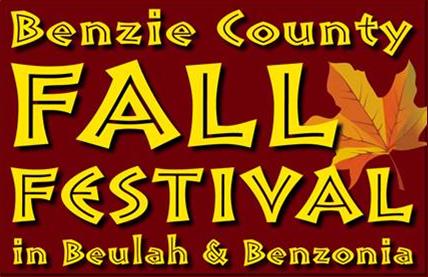 Always the 1st Saturday in October in Beulah Park.
Fun events in 2022 may include: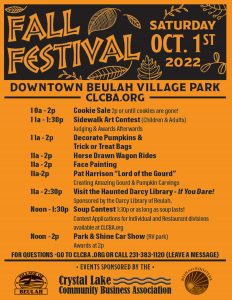 Pumpkin Decorating
Trick or Treat Bag Decorating
Pat Harrison 'Lord of the Gourd'
Haunted Darcy Library
Sidewalk Chalk Art, Kids Games, Face Painting
Soup Contest Entry Application
Park & Shine Classic Car & Motorcycle Show
Horse Drawn Wagon Rides
2021 Soup Contest Winners
Business
1st – Nacho Cheezy Chowder/Hungry Tummy
2nd – The Manitou/Curry Chicken Vegetable
3rd – L'chayim/Tangy Autumn Squash
Individual
1st – Bean/Kathy Engelbertson
2nd – Ham & Cabbage/Kathy Engelbertson
3rd – Northern Bean Soup/Joyce Jacobs
2021 Car Show Winners
Sheriff Award (Phil Downs):  Mike Manning 1930 Ford Pickup
Fireman Award (Dan Jerioski):  Gene Kerby  1969 Mustang
President Award (Dan Hook): Brent Middleditch1970 Chevelle
Peoples Choice Award (Norm Grieg):  Gene Kirby  1969 Mustang
2019 Soup Contest winners:
Individual:
#1 Rachel Evan with Loaded Broccoli Cheddar
#2 Joyce Jacob with Potato Soup
#3 Kathy Engelberton with Bean Soup
Business:
#1 Cold Creek Inn with Shrimp & Sausage Gumbo
#2 L'chayim with Pumpkin Rice Chowder
#3 Cold Creek Inn with Hungarian Chicken Paprikash
2019 Park & Shine Car Show (23 entries)
Sheriff's Choice: Lester Ely with his 1957 Chevy
Firemen's Choice: Kirt & Helen Wenzel with their 1930 Ford Model A
Village's Choice: Terry Ludford with his 1937 Chevy Coupe
People's Choice: Claude VanderPloeg with his 1961 Jaguar XK150
2018 Soup Contest winners:
Perhaps it was the chilly weather, intermittent rain or Bentley the camel, the soup tasters came out in force for the soup contest.  Thirteen entries with over 120 ballots cast decided the business and individual winners.
Individual:
1st Place:  Rachel Evans/Sweet Potato Bisque-entry # 10
2nd Place:  Mike Hunnel/Smoked Chicken Corn Chowder-entry # 12
3rd Place:  Benzie Area Zonta/Spicy Chicken Black Bean-entry #9
Business:
1st Place: Hungry Tummy/Northern White Bean w/Chicken-entry #8
2nd Place:  The Manitou/Mozarella Spinach Cheddar-entry #2
3rd Place:  L'chayim/Chicken in Caper Cream Sauce-entry #13
Thanks to all contestants:
Birch & Maple (Fire Roasted Corn Chowder – Entry #1)
Cold Creek Inn (Coconut Curry Chicken – Entry #11)
Crystal Café (Solstice – Entry #3)
Kathy Engelbertson (Chicken Soup – Entry #4 & Burger Veggie – Entry #5)
Red Bowl-Food to Go (Grilled Chicken & Corn – Entry #6 & Meat Lovers – Entry #7)
Congratulations to the 2017 Fallfest Soup Contest winners!
Business entry (soup #1) Chicken Kiev with Wild Rice
donated by Paul Oliver Memorial Hospital.
Individual entry (soup # 10) Chicken Noodle Soup
donated by Kathy Engelbertson.
Congratulations to Chloe and Lucas for their fantastic work in the Fallfest Coloring Contest! Look for their photo in our Gallery.

Fall Festival Photo Gallery