Cold Creek Bridge Walk – Archibald Jones Presentation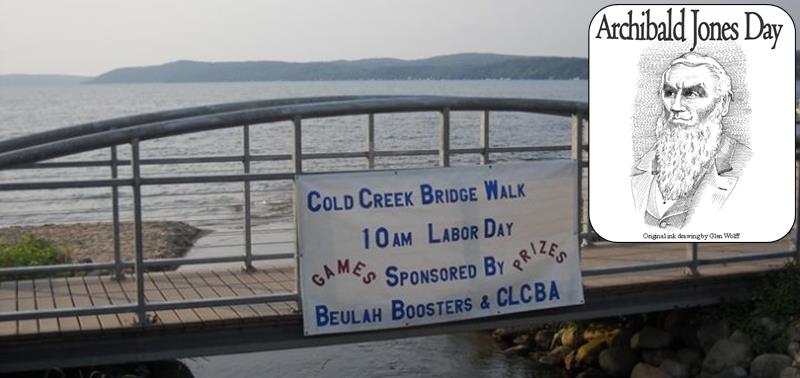 The Cold Creek Bridge Walk is in Beulah on Labor Day at 10 am.   Line up on the shoreline of Crystal Lake (boat launch side) of the Cold Creek Bridge. Prize drawings and children activities after the walk at the Beulah Village Park. After the Bridge Walk, learn about 'The Comedy of Crystal Lake" and Archibald Jones, held at Beulah Park 11 am to 2 pm after the Cold Creek Bridge Walk.
Who was Archibald Jones? Find out why Beulah celebrates "The Man Who (Allegedly) Pulled the Plug at Crystal Lake."
Stacy Leroy Daniels, a native of Benzie county, read the "Tragedy" of Crystal Lake as a young boy. After becoming a professional environmental engineer, he came to wonder more about the uniqueness of Crystal Lake: What caused the lowering of the Lake? Who was Archibald Jones – a scapegoat to be blamed for an ill-conceived project, or a "bootstrap engineer" to be celebrated as a hero? Learn more.
Sandy the Tortoise
"The Bridge Troll 2019"
Many thanks to our volunteers!
Cold Creek Bridge Walk and Archibald Jones Photo Gallery